ONE OF THE WORLD'S LARGEST SEISMIC BLASTING PROJECTS IS PLANNED FOR THE OTWAY BASIN OFF VICTORIA'S WESTERN COASTLINE
Norwegian-owned TGS-NOPEC Geophysical Company Pty Ltd has submitted an Environment Plan to seismic blast 45,000 sqkm of pristine waters off the Victorian Coast in order to locate the best drill targets for new oil and gas.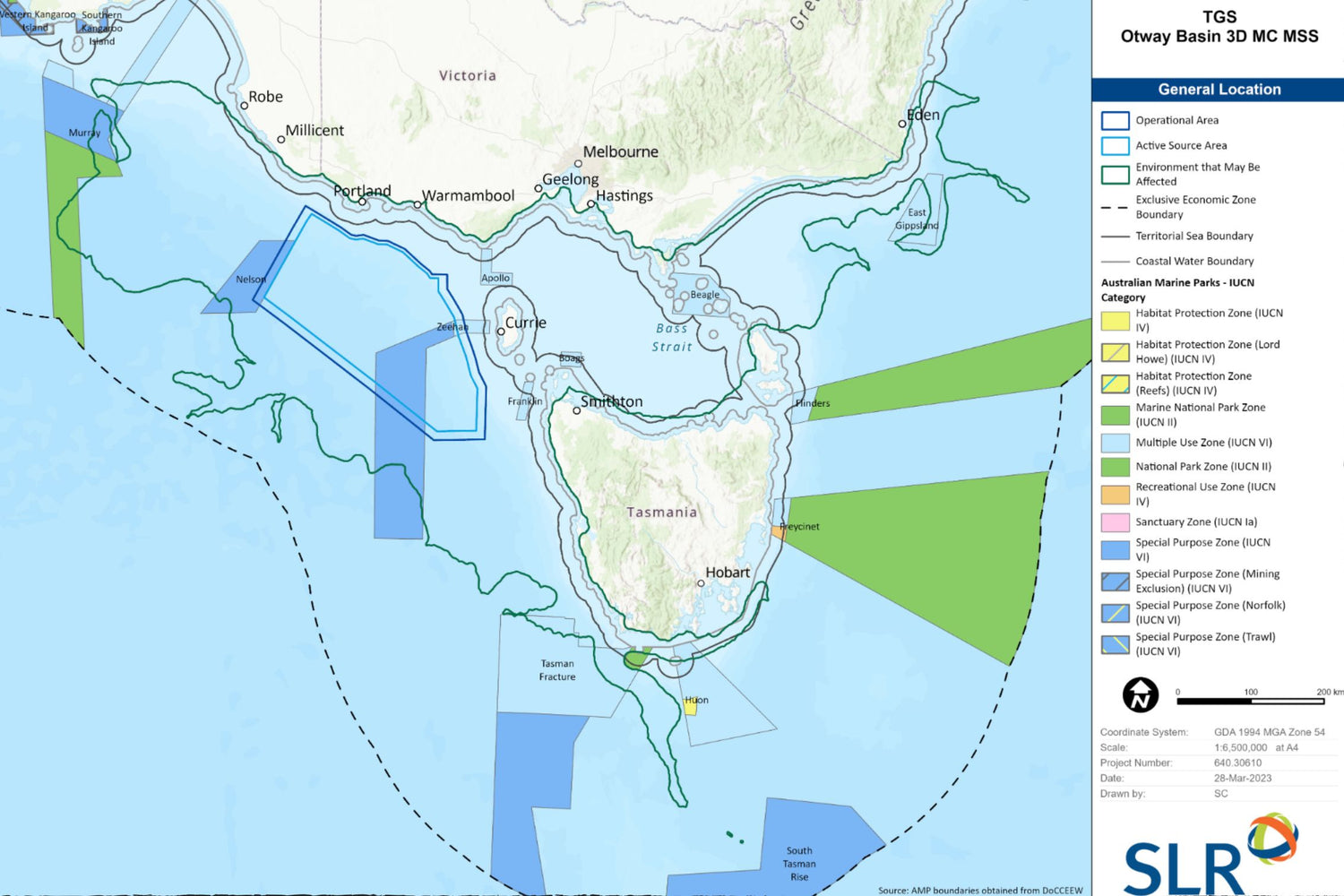 400 days of non-stop blasts
This seismic survey involves powerful airguns blasts of up to 258 decibels, every 10-seconds, 24 hours a day, 7 days a week. If approved by the National Offshore Petroleum Safety & Environmental Management Authority (NOPSEMA), this seismic blasting project can commence as early as 1st October 2023 till 30 September 2027 (up to a maximum of 400 days).
The proposed seismic survey, which lasts up to 400 days, coincides with the breeding, feeding, and residency periods of the Baleen Whale species across the entire area.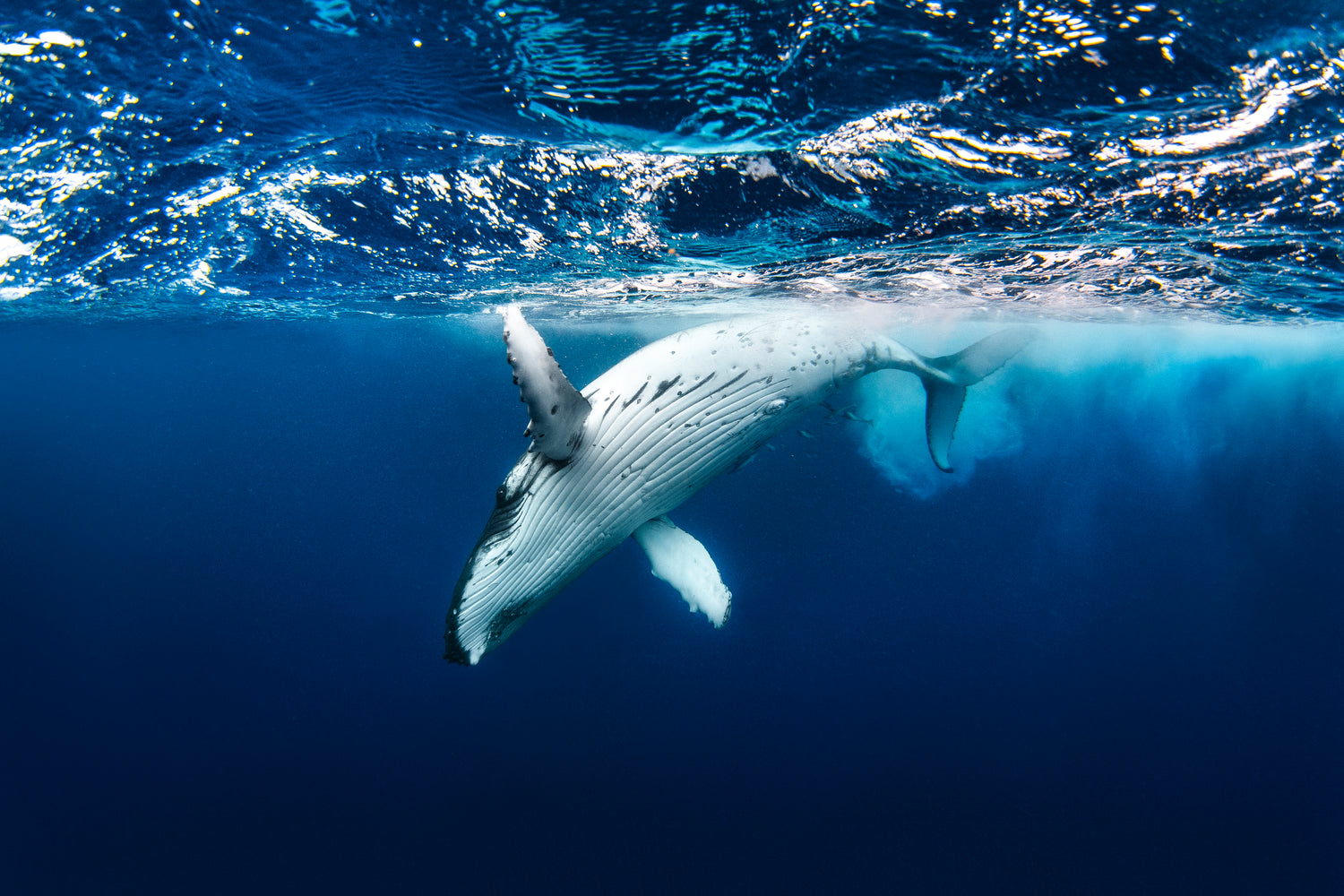 What are the risks?
Research has shown that seismic blasting results in serious harm to a variety of marine life from deafening whales and disrupting their feeding and migration, damaging the ability of southern rock lobster to function and navigate, and causing mortality in small fish and zooplankton. Sound travels faster through water than through air and can cover vast distances, ranging from hundreds to thousands of kilometers. After seismic surveying, many zooplankton are found dead, as far away as 1.2 kilometres away from the blast site.
Scheduled to commence on October 1, 2023, the proposed operation would directly impact critcal whale habitat and Biologically Important Areas (BIA), threatening EPBC listed species and critical feeding, calving and migration routes.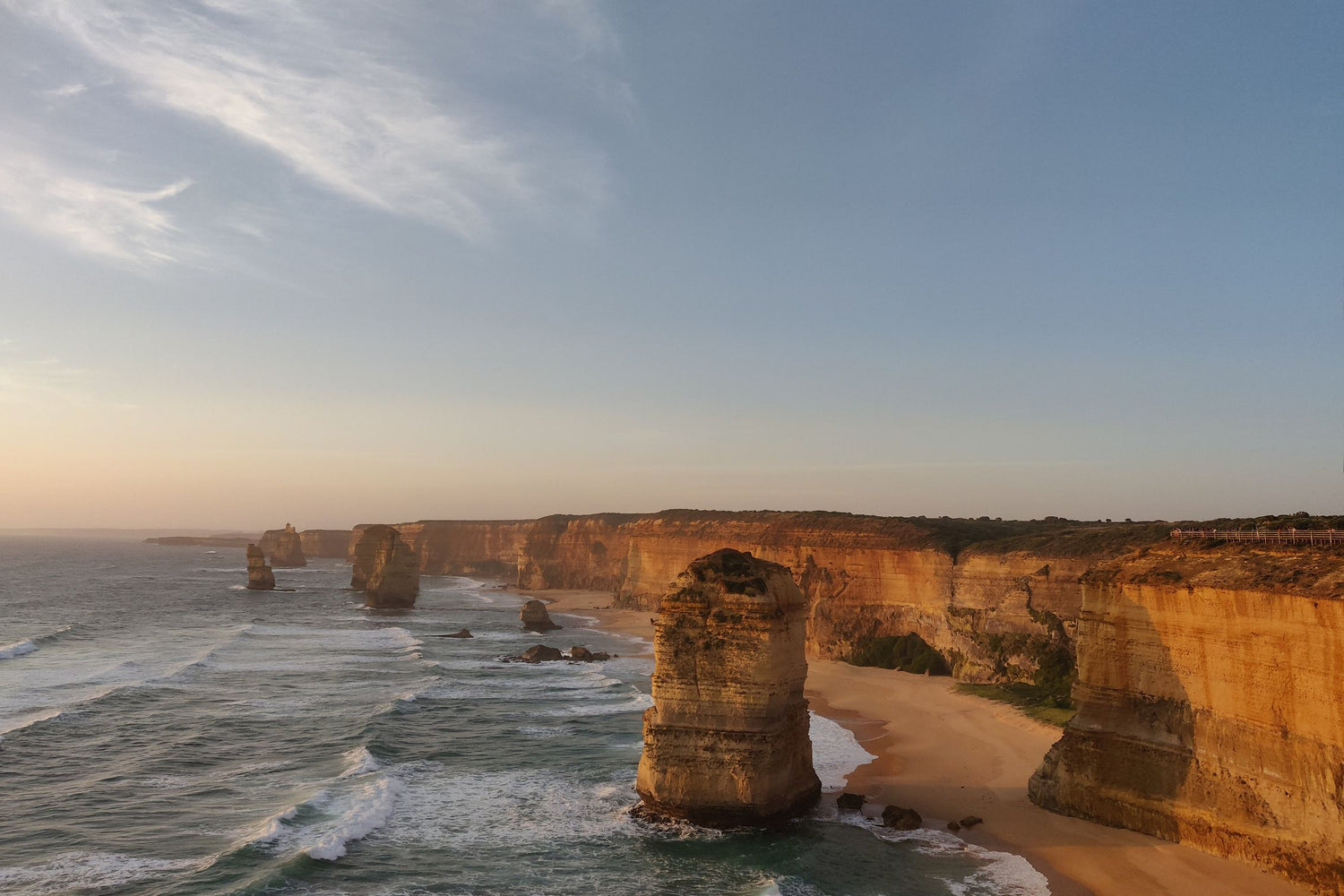 Areas at Risk
This seismic blasting area also passes through both the Zeehan and Nelson Australian Marine Parks. A further 8 other Australian Marine Parks overlap the EMBA zone.
In addition, over 320 NSW, VIC, SA, & TAS State Marine Parks, Marine National Parks, Marine Sanctuaries, Marine Reserves, Fisheries Research, conservation, and protected areas lie within the EMBA including Bay Of Islands, Twelve Apostles, The Arches, Marengo Reefs, Eagle Rock, Point Addis, Point Danger and Wilsons Promontory.
OUR GUIDE TO SUBMIT YOUR COMMENT
Step 1:  Open up the NOPSEMA website

here.

Click continue to accept NOPSEMA'S terms and conditions.
Step 2: Provide your full name and email address, and if you are making a submission as an organisation (e.g. local small business) provide the name.
Note: The organisation, Surfers For Climate is making our own formal submission so please do not refer to us as your organisation.
Step 3: Add your comments that refer directly to the Environmental Plan in the free text box.

Follow our tips below.
Step 4: Rate the public comment process
Step 5: Click 'Submit' to submit your response. You will now be provided with a response ID, this will also be automatically sent to you in an email.
Our Tips for providing comment:
Acronyms used: EP = Environmental Plan   OA = Operating Area  EMBA = Environment that May Be Affected NOPSEMA - National Offshore Petroleum Safety and Environmental Management Authority
1. Start: By introducing yourself and sharing your story:
For example; I am a resident of XXXX and am an interested party in the assessment of the Environmental Plan because ….. Add your connection to the coastline, your motivations, and any business that you own and / or are employed by that may be implicated by this plan, If you live in the region include reference to this. 
2. Make a solid statement with general reasoning for why the Environmental Plan should be rejected. Form your own statement, you can consider drawing from the below dot points.
The Environmental Plan is not consistent with the objectives, principles and requirements outlined in both the Environment Protection and Biodiversity Conservation Act 1999 and under international law.
The proposal to conduct seismic surveying for oil and gas exploration in our oceans will cause direct harm to ocean ecosystems. As seismic surveying is a pathway to fossil fuel extraction, plans to continue exploration go directly against Australia's commitments to reduce greenhouse gas emissions by 43% from 2005 levels, and net zero emissions by 2050. The proposal should be rejected outright.
Relevant consideration has not been made for the social wellbeing of coastal communities. Indirect impacts from the seismic surveying on coastal areas have not been outlined.  Impacts have the potential to disrupt social and recreational users of these spaces.
3. Address Topic 1: Identification and description of environmental features in the Environmental Plan. 
For example: "Re: the identification and description of environmental features in the Environmental Plan, there is a clear lack of detail provided and therefore lack of understanding of the environment of the Operational Area and surrounding zone. It is noted that…" 
       Select 1-3 from the below list:
The Operational Area of 55000 sq km for this seismic surveying proposal includes large areas of the Zeehan Marine Park and overlaps the western boundary of the Nelson Marine Park. The EP does not address the ecological importance of these immense marine parks and the species known to inhabit it.
The EPBC Act Protected Matters Report identifies 13 threatened and / or migratory elasmobranch species, 2 endangered and migratory species of marine reptile and 34 species of marine mammals including the endangered Southern Right and Pygmy Blue Whale all present inside the EMBA Zone. 
Table 37 (page 235) in the EP shows seismic activity taking place in the OA directly over Baleen Whale habitat and Biologically Important Areas (BIA) including the Bonney Upwelling, threatening EPBC listed species. 
The chance of encountering Southern Right Whales and Pygmy Blue Whales is listed as moderate. The EP does not provide sufficient detailed evidence on specific potential impacts on hearing, navigation, calving and feeding.
Zooplankton are found throughout the OA and surrounding impacted areas. These species underpin the health and productivity of marine ecosystems and form the basis of marine food chains and in particular Antarctic Krill (Euphausia superba) are considered keystone species. 
This EP misrepresents the full expanse of the biologically important area, the Bonney Upwelling. The distribution and productivity of these nutrient rich waters occur over a much larger range, including the OA, which is why blue whales are found there. 
4. Address Topic 2: Identification and evaluation of environmental impacts and environmental risks described in the environmental plan.
For example: "Re: the identification and evaluation of environmental impacts and risks described in the Environmental Plan. Impacts to our ocean environment and marine life have not been adequately considered, nor have the measures to mitigate impacts been sufficiently detailed. Such as…"
Select 1-3 from the below list: Note: In order for your comments to be considered by NOPSEMA, it's critical that your submission refers directly back to the Environmental Plan. The below shows you how to do this. 
The EP failed to find or refer to, trusted research identifying longer term impacts on fish or shark communities. The attempts to use data gathered from the North West Shelf (a tropical ecosystem) and apply them to the Otway Basin (a temperate ecosystem) are scientifically flawed because of key differences between these two ecosystems such as the species and predators found, and depth and temperature of the ocean. 'Community level' impacts were assessed over 8 months rather than the year long assessment widely adopted by the scientific community to incorporate seasonal variations.
Research has shown that seismic surveying results in serious harm to a variety of marine life, such as whales. The sound impact on whales can deafen them and disrupt their feeding and migration. The EP fails to address the cumulative impact of seismic surveying and marine noise on marine life. It should  provide specific impacts on the array of Baleen whales and the other 34 species that have been identified as being present by the EPBC Act Protected Matters Report. 
The sound impact of seismic surveying on zooplankton is underestimated considering the breadth of the impact (beyond the operational area) nor given any details of impacts in the consistency and length of time of blasting will occur (e.g. no time provided for species to recover).  
Oil spills at sea by TGS are an unnecessary risk. The EMBA zone shows oil spills may reach much of the Victorian and Tasmanian coastlines that are inaccessible to enable amelioration of the damage. Further, many of the chemical dispersants utilised by industry to clean up oil spills are known carcinogens. 
The EP does not address the ecological importance of these immense marine parks and the species known to inhabit it, and most importantly the impacts seismic surveying will have on the species known to be in the area during projected operational periods. This is an unacceptable level of impact on marine parks. Research has shown seismic blast noise travels over 100 km's in the oceans, meaning the impact to marine life is well beyond the described zone in this EP. 
The EP misrepresents the Bonney Upwelling, as it fails to acknowledge it's much larger geospatial range that sees it enter into the Operating Area. This indicates an increased likelihood of Baleen Whale species, such as the Pygmy Blue Whale being within the OA. Further, it indicates that plankton, a keystone species, would be at higher risk of seismic blasting. 
5. Address Topic 3: Management of environmental impacts and environmental risks described in the Environmental Plan.
For example: "Re: Management of the environmental impacts and environmental risks described in the EP, I note that / request that / etc….."
Select 1-3 from the below list:
The Environmental Plan provided does not meet criteria for NOPSEMA's acceptance, set out under regulation 10A of the Offshore Petroleum and Greenhouse Gas Storage (Environment) Regulations 2009 (Cth), sub-clauses (a) - (f). The EP does not sufficiently demonstrate the environmental impacts, or that the impacts will be of an acceptable level, with  appropriate outcomes.
A lack of scientific certainty should not be used as a reason for allowing this project to proceed, rather there is the need to take precautionary measures to prohibit this project from going ahead. I am requesting that the application of the precautionary principle (under the EPBC Act under section 391) be enforced with regards to approval of this Environmental Plan.I contend that the EP is inconsistent with the Blue Whale Conservation Management Plan and respectfully request NOPSEMA to not accept the EP.
Consideration of the flow-on impacts needs to be provided, with identification and assessment of the risks, impacts and consequences for:
a. The local region overall – communities, businesses, livelihoods, and jobs
b. The social costs associated with such impacts and consequences.
c. Fishing and tourism in the short and long term need to be assessed.
I request that refuelling of seismic testing ships is conducted in a port. 
Under the OPGGS Act, NOPSEMA is obligated to ensure applicants are trustworthy and have appropriate history of compliance. Whilst this Environmental Plan only lists TGS as the applicant,

Schlumberger were listed alongside TGS as the ​​proponent to this project in late 2022

. It is known that TGS is a data management company and therefore could not conduct the seismic testing without the likes of another business who owns ships and conducts offshore exploration. Under information obtained via a FOI, NOPSEMA currently have a criminal charge sitting against Schlumberger for their previous 2D seismic survey in the Otway Basin (2020). To uphold their obligations, NOPSEMA should not allow Schlumberger to perform any offshore projects in Australian waters whilst criminal charges are outstanding.  
The Southern Right Whale has strong cultural significance to the Gunditjmara Traditional Owners. Disruption and impacts on the Southern Right Whale will also have significant cultural disruptions for the Traditional Owners. This criteria requires the consideration of, and the consistency of the objectives and principles set out in the Environment Protection and Biodiversity Conservation Act 1999 (Cth) including the consideration of the role and relationship these areas to First Nations people, which is protected by international human rights covenants to which Australia is a signatory.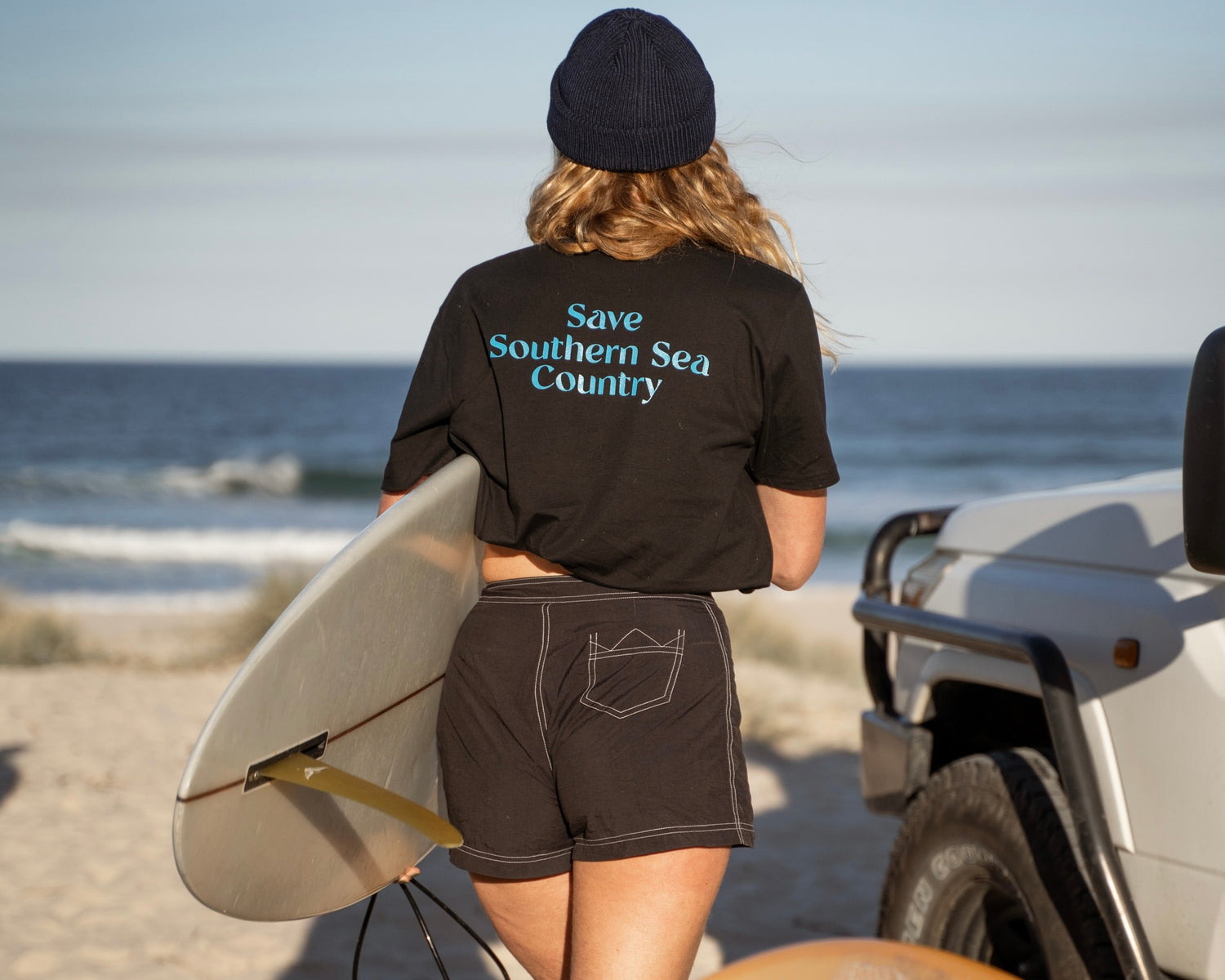 Show your support
Let everyone know it is time to kick big oil & gas out of the lineup. Surfers for Climate have collaborated with Gunditjmara artists Tarryn Love and Indie Bell for the design of our "Save Southern Sea Country" Tees.
SHOP NOW